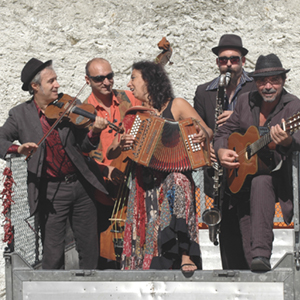 Erasmo Treglia: violin, jew's harp, ciaramella (tradit. oboe)
Elia Ciricillo: voice, guitar, tambourin, dance
Rita Tumminia: accordeon, dance
Marcus Colonna: clarinets
Sandu Sandokan!: doublebass
ACQUARAGIA DROM
Music and Tarantellas from the Italian Gyps
A little of Gypsy blood and lots of traditional weddings and feasts.
This is ACQUARAGIA DROM. Its original music and dance project will allow you to discover an amazing Italian/Mediterranean-Gypsy style swirling among Rom and Sinti serenades and powerful folk dances as saltarellos, tarantellas, tammurriatas.
Acquaragia Drom is trying to rebuild the musical journey of the Italian Gypsies of the past, singing melodies that are part of the historical communities living in the country a long time ago, playing, at the same time, rhythms of the new Gypsy caravans nowadays.
A very special musical travel.
Even in Italy few people knew about this long history, developed through the Sinti and Manouche swing of the Alpes, the saltarello of the Molise and Abruzzo, the frenetic tarantella from Sicily, the ritual pizzica of Salento.
Acquaragia Drom plays using an "ironic and corrosive" way to present this repertoire in order to make the audience laugh and dance, but also to open their mind about  Gypsy world.
Our Last Tours
GYPSY FESTIVAL – Tilburg (Holland)
KHAMORO GYPSY FESTIVAL – Prague (Chez Rep.)
HONG KONG FESTIVAL – Hong Kong (Cina)
SPRING FESTIVAL – Canton (China)
SZIGET FESTIVAL – Budapest (Hungary)
MERCADO DE MUSICA VIVA – Vic (Spain)
7 SOIS 7 LUAS – (Portugal, Spain, France, Greece, Israel, Croatia)
NAMEST FOLK FESTIVAL – Namest (Chez Rep.)
GYPSY FESTIVAL – Budapest (Hungary)
RAINFOREST WORLD MUSIC FESTIVAL – Kuching (Malaysia)
SPRING FESTIVAL – Ankara (Turkey)
MESIR FESTIVAL – Manisa (Turkey)
NEW YORK GYPSY FESTIVAL – New York (USA)
AKKORDEON FESTIVAL – Lille (France)
The Italian gypsy style, forged by Acquaragia Drom, is mixed with the wild rhythm of the pyrotechnical Rom band  Taraf da Metropulitana, with Mimmo Epifani, the virtuoso genius of the mandola a la barbiere, the wild craziness of Eugene Hutz of Gogol Bordello, the Rock & Rom of Piero Pelù, and the passion of other dear friends, both rom and gaggè.